The reliable plumber West Beach trusts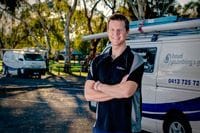 Seeking a professional, licensed and dependable plumber in West Beach? You've come to the right place! Boyd Plumbing & Gas can get your problems fixed quickly and professionally, without causing you stress. We offer a vast range of plumbing and gas fitting services, from unblocking drains in your home through to complete bathroom renovations and even commercial construction projects. No matter how big or small your plumbing needs may be, we know how to help. We've dedicated more than 15 years to high quality, professional work, delivered with 100% customer satisfaction every time. That's why we're the plumber West Beach homes and businesses call first when they need plumbing services.
Your blocked drains plumber West Beach
When trying to deal with the cause of blocked drains on their own, many homeowners attempt to wash the blockage further into the pipes. This could actually end up causing much more damage than you initially imagined. The team at Boyd Plumbing & Gas are only a phone call away and have the right equipment and expertise to remove the cause of the blockage from drains, plug holes and everything else in between. We've faced all kinds of blockages from hair to soap scum, sand, dirt and tree roots. We're also experienced in the use of CCTV drain cameras to show the source of the blockage and help us to decide the best way to tackle it and get your pipework back in full working order.
Keeping your hot water flowing all year
Not having your hot water working is not a pleasant time for anybody in your home. Rather than accepting that a cold shower is something that you're destined for, why not get in touch with our friendly and experienced team? We know exactly what it takes to provide a home with running hot water and whatever the issue might be, we're confident that we can have your house back on track in no time with minimal fuss. As soon as we visit your home, we'll perform a range of checks to identify the cause of the problem. Once we know what the issue is, our experienced plumbers will then set about taking care of the issue in a timely and professional manner.
Let us save the day!
Any plumbing issue is a problem. Even the smallest water leak could be the sign of significant problem about to cause serious damage to your home! Boyd Plumbing & Gas has a stress-free, cost-effective solution for all your plumbing needs, whether it be small maintenance jobs, new additions, renovations or emergency plumbing repairs. Our licensed plumber West Beach team draws on years of experience in all aspects of plumbing to ensure your job is completed quickly, smoothly and to our high standards. Trained to the highest standards and with a strong work ethic, we are more than capable of handling any plumbing problem that you may encounter.