Your trusted plumber Henley Beach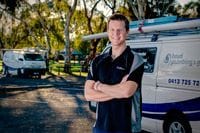 With more than 15 years of experience in plumbing and gas fitting and a team of dedicated professionals, Boyd Plumbing & Gas provides prompt and affordable customer service for all your plumbing needs. Whether you need a toilet fixed, a drain cleared or a new bathroom installed, we're sure to deliver cost-effective solutions that offer you the best results. From burst water pipes to gas leaks, blocked drains, leaking roofs, hot water system failure, gas appliance repairs, we can take care of them all. When you have a complex plumbing project or a messy problem that just can't wait, Boyd Plumbing & Gas is the plumber Henley Beach home and business owners need.
Reliable hot water plumber Henley Beach
There's nothing worse on an icy winter morning than discovering that your hot water system has stopped working! Here at Boyd Plumbing & Gas, we're local, and we respond quickly. We're the reliable plumbing team you need to get back into your daily routine, with gas and electric hot water service installation, maintenance and repairs. We're experienced and fully qualified when it comes to making sure your hot water system is installed safely and correctly. Backed by many years of experience in the installation of hot water systems, you can trust Boyd Plumbing & Gas. We're the professional hot water plumber Henley Beach residents rely on to get their system installed right the first time.
Taking care of your blocked drains
Having blocked drains can be incredibly frustrating and cause a lot of damage to your home or office space. Whether it has been caused by heavy rainfall, your shower, washing machine, or a different plumbing issue altogether, a blocked drain will cause water to become stagnant and smelly. Some blockages will even cause water to overflow into your home, damaging your floors, carpets, furniture and personal belongings. Our expert team at Boyd Plumbing & Gas have seen al manner of blockages and have the right expertise to take care of your blocked drains so that the situation doesn't become worse. We're experts when it comes to clearing blocked drains, and we take the right steps to remove the blockage without damaging your pipework.
Domestic and commercial plumbing services
Whether you're after a domestic or commercial plumber, you've come to the right place. We provide a comprehensive range of both commercial and domestic plumbing services. From overflowing sewage to blocked drains, leaking taps or broken pipes our team can help. We're available to respond to both commercial and residential plumbing demands and are fully equipped to handle even the messiest of situations. Renovating your current home or setting up a new office space? We can help with these projects, too. We have a wealth of experience with renovation and construction plumbing projects throughout Adelaide. Get in touch with us today and tell us about your project or problem. We'd love to help!