Your trusted local plumber Glengowrie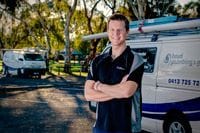 Need a plumber? We're here to help. Boyd Plumbing & Gas is a family operated business and is the most trusted plumber Glengowrie has to offer. We offer a complete range of plumbing and gas fitting services, from unblocking drains to fitting tapware, hot water installations, roof repairs, complete bathroom renovations and even CCTV inspections of sewer drains. Our business is built on the satisfaction of our clients and our ability to deliver plumbing solutions that suit their specific needs. Specialising in all types of residential, commercial and construction plumbing, we're quickly becoming the plumber of choice for many leading commercial and residential developments.
Reliable blocked drain plumber Glengowrie
Many homeowners might think that they have enough skill and knowledge to handle a blocked drain. This is not true. Blocked drains require an experienced plumbing professional to fix the problem, not make it worse. Attempting to tackle the problem yourself puts you at risk of causing further damage to your pipes. This can also result in higher repair costs and further issues with your plumbing and pipes down the track. It can also be dangerous to your safety and cause an unwanted mess. After 15 years of service as the leading plumber Glengowrie has on offer, we've seen this happen firsthand. Don't take the risk ? call the professionals at Boyd Plumbing & Gas.
Professional hot water installation & repairs
People never truly understand the importance of their hot water system until it stops working and they're faced with the nightmare of a cold shower on an icy winter morning. If your hot water system is on the brink, it is essential to get it fixed as soon as possible. If you find your home suddenly without hot water or notice the hot water system is leaking, call on Boyd Plumbing & Gas for hot water system repairs and maintenance. Our team are experienced in all major brands of hot water systems, both gas and electric. As your local licensed plumber Glengowrie, we offer installation and hot water repairs so that you can get back to your daily routine as soon as possible.
Precise construction & renovation plumbing
When renovating your home or office, it's essential to make sure that a registered plumber installs your new sinks, showers, bathtubs, taps and toilets. If you 'DIY' you run the risk of ruining all your hard work and having to start over again. Boyd Plumbing & Gas provides a reliable, efficient and well-organised service for all your renovation plumbing needs. We also offer expert advice that could not only save you money but also give you the best possible result. From our first meetings with clients, through to our day-to-day dealings, we ensure that all aspects of our projects run smoothly and that the quality of our workmanship is second to none. Get in touch with us today and tell us about your plumbing project or problem. We're ready to help!