Your trusted local plumber Glenelg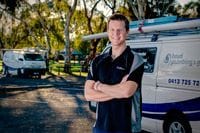 If you need a first class plumber for your repairs and installations, you will be happy that you called Boyd Plumbing & Gas. A family run business dedicated to your satisfaction, we offer a wide range of general plumbing and gas services to get your plumbing problem sorted. With an experienced and dedicated team, we're also able to provide services in all areas of the trade from plumbing on a domestic, commercial and property management level all the way through to construction. Whether you're building a new home or just have a leaky tap, we can do it all. That's why Boyd Plumbing & Gas is the plumber Glenelg has come to know and trust.
Specialist hot water plumber Glenelg
When your hot water system isn't running smoothly, it works harder and uses more energy. Not only does this increase power costs, but it can also ruin your day. If your hot water system is in need of servicing or repairs, you can trust Boyd Plumbing & Gas. Servicing both residential and commercial customers with our hot water repair and installation services, we can take a look at your current hot water system and conduct the necessary repairs to return it to full working order. Our team of professionally qualified plumbers and gas fitters can install and provide hot water repairs for electric, gas and solar water systems, as well as heat pumps and associated appliances.
Say goodbye to messy blocked drains
Drains and properly designed drainage systems are an essential part of any home. Not only are blocked drains a nuisance, but they can also be a plumbing catastrophe when left untreated. What you think may just be a blocked bathroom sink could escalate into more severe plumbing leaks, overflows and damage. It could even damage pipes that weren't affected in the first place. That's why blocked drains should be attended to by a licensed plumber as soon as possible, to avoid extra costs and damage to your property. The highly skilled Boyd plumber Glenelg team can fix any drainage issue, with the right tools and technology to quickly clear blocked drains and have them running freely.
Get in touch with expert Glenelg plumber today!
At Boyd Plumbing & Gas, we pride ourselves on our rapidly growing reputation of being the plumber Glenelg can rely on. Our fully licensed and insured plumbers will provide you with an experienced, professional outcome, with everything we do conducted in the safest manner possible. We don't take risks and instead work to maintain our own exacting standards, as well as meet the rigorous industry standards and regulations. We value your time and offer a prompt and efficient plumbing service, to save you from unnecessary costs. Discover more about what we can do for you by getting in touch with our team today. We're happy to answer your questions and queries, helping you make an informed decision when calling in a service.