Your professional local plumber Brighton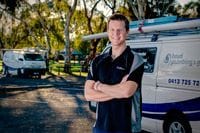 When you have a plumbing problem pop up, you need a reliable plumber, fast. With more than 15 years of experience, we're the plumber Brighton relies on to quickly diagnose and fix their plumbing. Our wide range of services cater for minor plumbing issues as well as more complicated problems. We offer a complete range of plumbing and gas fitting services, from fitting tapware to hot water installation, roof repairs and irrigation, right through to complete bathroom renovations and CCTV drain inspections. So whether your taps are leaking, your hot water is cold, or you need a trusted plumber for a bathroom renovation, Boyd Plumbing & Gas can do it all. We're the plumber Brighton can rely on.
The plumber Brighton calls for blocked drains
Blocked drains are one of our specialities here at Boyd Plumbing & Gas. We'll find the source of any blockage and get your water flowing freely once again by utilising our most advanced tools and chemical formulas to clear the debris away in the most efficient way we can. We'll do all of this with the wellbeing of you pipework in mind. Rather than simply flushing the blockage further down the system, we'll make sure to remove it and return your pipes back to a functional condition. When the problem is deep in your sewer drains, we use CCTV drain cameras to accurately show the source of the blockage and help us to determine the best way to tackle it.
Enjoy reliable hot water once again
There are many reasons why your hot water may have stopped running; from blockages and damage, through to faulty boilers. Fortunately for you, our professional plumber Brighton team are always on hand to help get your hot water running once again. We'll find the cause of the problem soon after we arrive and once we know what we're dealing with, we'll suggest a range of options to help you to decide on the one that's best for you. These may include hot water repairs, system replacements, or brand new installations. We pride ourselves on being as flexible as possible, so just let us know what you'd like done, and we'll take care of the rest!
More than just your average plumber
Here at Boyd Plumbing & Gas, we're known for the quality plumbing services that we provide for all our residential, commercial and industrial customers in Brighton and surrounds. We offer extensive experience and a complete range of plumbing and gas fitting services that only our team can provide. Customer service is critical to us, and we aim to meet all customer requirements as efficiently and affordably as possible. We do our best to rectify your problem as quickly as possible so that we can minimise the risk to your family and home. We use only top-quality products in our work, and we pride ourselves on offering competitive prices without compromising on the excellent results that we're known for.