The experts in blocked drains Adelaide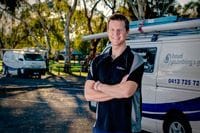 Blocked drains are not only one of the most common plumbing problems we see, but they can also be some of the most inconvenient. Some blockages will even cause water to overflow into your home, damaging floors, carpets, furniture and even your personal belongings. With more than 15 years of industry experience, we are the experts when it comes to clearing blocked drains Adelaide wide. The expert team at Boyd Plumbing & Gas can take care of your blocked drains so that the situation doesn't become worse. We'll investigate to find what has caused your blocked drains in Adelaide, and then take the right steps to clear the blockage without damaging your pipework.
How do I know if my drains are blocked?
Our team of plumbers are often asked by homeowners how they can tell if they have blocked drains on their property. There are many signs to look out for that will tell you that your drains are in trouble, including overpowering odours, evidence of overflowing, water emptying slowly from drains and toilets and unusual sounds coming from the pipework. However, it is not always obvious that your drains are blocked, as the problem may be much further down the pipes. Rubbish, leaves, sanitary products and other items might have made their way deep down into your sewerage and become lodged. More often than not, pipes will simply become blocked due to age, wear and tear, and tree roots that have grown into the water supply.
Find the problem with CCTV drain inspections
The easiest and cleanest way to look inside your drain is with CCTV technology. We specialise in CCTV drain inspections at Boyd Plumbing & Gas, which enables us to precisely diagnose the extent of the blockage or damage to your pipework. This type of inspection saves you time and money as it allows us to diagnose the problem and work on a solution efficiently, without the need for digging. This means we're able to get the job done quickly and easily with minimal disruption to your schedule. It can also be used as a preventative measure to ensure you have correctly functioning plumbing at all times, which is important for businesses that rely on their plumbing to operate.
Leave it to the experts. Call us now!
Many property owners believe that the average handyman has enough knowledge to handle a blocked drain on their own, aided by supermarket chemicals. But this is not the case. To properly fix the problem, blocked drains Adelaide wide require an experienced plumber. Attempting to tackle the problem yourself puts you at risk of-of making the problem worse, or causing further damage to your pipes. This can also cause higher repair costs and further issues down the track, putting your health and safety at risk and creating an unwanted mess. Don't take the risk, call the professionals at Boyd Plumbing & Gas instead and get peace of mind and a prompt response.